Innisfree: An American Garden, by Lester Collins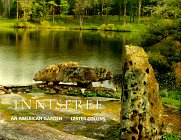 "Innisfree is a great garden and this book its perfect introduction and aide-memoire." — Robert Dash, Garden Design, June 1995.
136 pages, 45 color photos, 3 b/w photos, 10 x 7 1/2", hardcover.
ISBN: 0-8109-3464-7
$35.00, plus shipping and handling
Publication Date: January 1983
Innisfree is a unique garden in which the techniques of Oriental design are disguised as an enchanted natural landscape. Open to the public yet hardly advertised, it is a secret garden that all may share. Set in 200 acres in Millbrook, New York, some 90 miles from New York City, Innisfree was the private preserve of Walter and Marion Beck from 1929 to 1960. Inspired by the scroll paintings of eighth-century Chinese poet and painter Wang Wei's garden, Beck created a series of self-contained landscapes using natural elements to frame and fill exquisite pictures. The Innisfree Foundation, under the trusteeship of landscape architect Lester Collins, was created to preserve and maintain the property. Following the practical directives of the Sensai Hisho, or Secret Garden Book, an ancient Japanese handbook, Collins incorporated Beck's individual gardens into a larger design that allows the visitor to move gracefully from one scene to the next. By the time he died in 1993, he had doubled the size of an already vast and elaborate private garden that required the services of 20 full-time gardeners, while converting it into a public garden that could be maintained by a staff of five. In this volume, beautifully illustrated with his own photographs and others specially commissioned, Collins reveals the magic of Innisfree, from its underlying Eastern philosophy of landscape art to construction details such as those that cause subtle variations in the sound of water and how rocks and natural contours are used to create distinctive beauty. The unique secret of Innisfree is that an art form normally seen only in stylized images of pagodas and dragons has been reinterpreted in a natural landscape that remains a completely American garden.
---
Lester Collins, F.A.S.L.A. (1914-1993) had a long and distinguished career as a landscape architect and site planner, working on city planning, campus design, parks and private gardens in the eastern United States from Maine to Florida. Collins received a graduate degree in landscape architecture from Harvard University in 1942 and studied as well in China and Japan. He was Dean of the Harvard University School of Landscape Architecture before going into private practice in Washington, D. C., in 1953. Among his most important projects were the redesign of the Hirshhorn Sculpture Garden at the Smithsonian Institution and the design of Miami Lakes, Florida, a town built and developed by the William Graham family. Of his many projects, he considered Innisfree his most important work. He died in the summer of 1993, shortly after completing this book.
The book is available at:
Merritt Books Store, Front Street, Millbrook, NY 12545, telephone 914-677-5857
from the Innsifree parking attendant
by mail order from Timber Press, telephone 1-800-327-5680
from Amazon Books
---